A very unique Six The Musical premier in Hungary - video in the article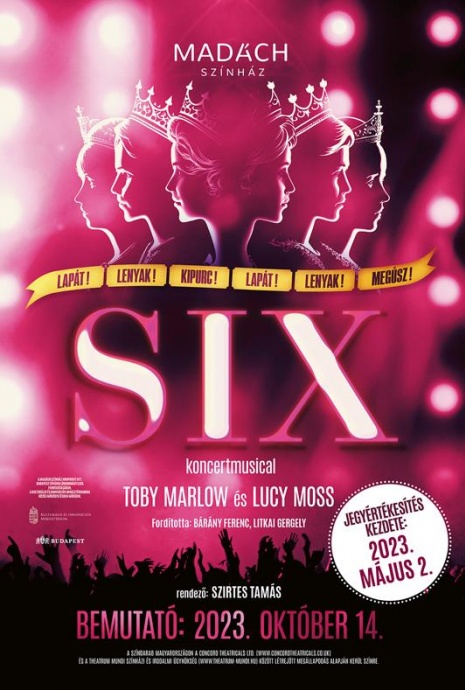 A non-replica version of Six The Musical coming to Madach Theatre in Budapest
Hungarian Madach Theatre will premiere an extraordinary version of Six The Musical this autumn.
Madach Theatre traditionally premieres a non-replica version of musicals. This will happen with Six The Musical too. Compared to the West End version not only will the direction be different, but the costumes, stage, and posters too. As Madach Theatre is a repertoire theatre and works in a very different way from West End theatres, there will be a double cast of the musical. This is a unique concept compared to the West End show. Both casts will have their own premiere.
If someone wants to be close to the queens, there is good news – there will be a chance to buy tickets to sit on the stage.
Even if the concept changed, the music and the story would remain the same: Wives of Henry VIII, one of the most notorious characters in British history, form a pop band, and while telling the story of their marriage, they fight for the title of the most royal queen.
Premier on 14 October 2023
Writer: Toby Marlow and Lucy Moss
Music director: Tibor Kocsák, Géza Köteles
Set and animation designer: András Vízvárdi
Costume designer: Nóra Rományi
Choreographer: Ákos Tihanyi
Director: Tamás Szirtes
The Madach Theatre held a press conference to announce the premiere. During the press conference, the two cast performed the title song of the musical. Watch the video here: