Arts Educational School presents Sweet Charity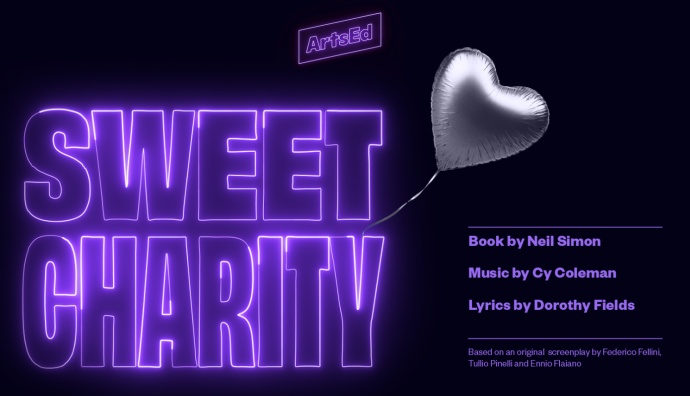 The musical will play from 14 November to 18 November at the Andrew Lloyd Webber Foundation Theatre in Chiswick
Sweet Charity is based on the 1957 Italian film called Nights of Cabiria and premiered on Broadway in 1966. Music by Cy Coleman, lyrics by Dorothy Fields and book by Neil Simon. The original Broadway show was choreographed by Bob Fosse and nominated for nine Tony Awards, winning the Tony for Best Choreography. The musical students of Art Educational School will present this show at the Andrew Lloyd Webber Foundation Theatre.
Sweet Charity explores the turbulent love life of Charity Hope Valentine, a hopelessly romantic but comically unfortunate dance hall hostess in New York City. With a tuneful, groovy, mid-1960s score by Cy Coleman, sparkling lyrics by Dorothy Fields, and a hilarious book by Neil Simon, Sweet Charity captures all the energy, humour, and heartbreak of Life in the Big City for an unfortunate but irrepressible optimist.
This production is double-cast:
Dango Company: Esme Kennedy, Hayes Nolan, Emily Whitby-Samways, Georgie Gaudencio
14th Nov 7.30pm | 16th Nov 2.30pm | 17th Nov 7.30pm | 18th Nov 2.30pm
Fan Company: Mia Endicott, Alex Hayden, Emilia Paige Jurin, Anne-Marie Wojna
15th Nov 7.30pm | 16th Nov 7.30pm | 17th Nov 2.30pm | 18th Nov 7.30pm
For both casts, Jesse Chidera will appear as Vidal, Josie Garner as Ursula, Joel Wilding as Herman, Nkara Stephenson as Daddy Brubeck, Olivia Leah as Carmen/Ensemble and Rosie Takman as Rosie /Ensemble.
Ensemble for both casts: Al Knott, Asher Forth, Ben Fenwick, Dan Burstow, Harrison Langham, Hayden Cable, Kayna Montecillo, Max Mulrenan, Maya Khatri Chhetri, Sedona Sky and Yujin Park
Directed by Gary Lloyd, choreographer Matt Nicholson, musical director Dan Glover, set designer Cory Shipp, costume designer Louie Whitemore, lighting designer Nic Farman, sound designer James Hassett.