Cable Street musical world premiere at the Southwark Playhouse Borough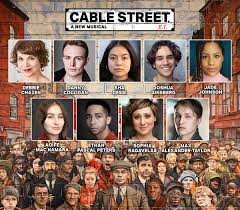 Cable Street musical world premiere at the Southwark Playhouse Borough
It's October 1936 in the heart of London's East End. 
Sammy, Mairead and Ron are carving out their own futures on Cable Street when Oswald Mosley's British Union of Fascists start to march on East London. 
Half a million Jews, Irish workers and communists unite to blockade the road they call home. 
As the people raise their voices and take a united stand against hatred, the lives of the streets' residents are changed forever.
Featuring a contemporary score, Cable Street is an electrifying reimagining of one of London's most significant days.
A celebration of community and a rallying call to action, this timeless story is as powerful today as it ever was.
Cable Street music and lyrics by Tim Gilvin, playwright by Alex Kanefsky.
Leading the Danny Colligan as Ron, Sha Dessi as Mairead, and recent graduate Joshua Ginsberg as Sammy, alongside Debbie Chazen, Sophia Ragavelas, Jade Johnson, Max Alexander-Taylor, Aiofe Mac Namara, and Ethan Pascal Peters.
The show will be directed by Adam Lenson, musical director Tamara Saringer, set designer Yoav Segal, costume designer Lu Herbert, lighting designer Sam Waddington, dramaturg Olivia Mace, casting director Sarah Leung, and producers Dylan Schlosberg's 10 to 4 Productions and Neil Marcus.
Cable Street will play at Southwark Playhouse Borough (the large) from 26 February 2024 until 16 March 2024, following previews from 16 February.